History of Shinshu Uchihamono
About 450 years ago, during the War period, many swordsmiths moved here to the Shinanomachi area from Echigo region to repair weapons and armors used in war.
After that, villagers learned the techniques by blacksmiths who moved to the area, and have been used to make agricultural tools and forest tools. The technique has been handed down from master to disciple, and from child to grandchild, with incremental improvements.
Even in the 21st century, there are some craftsmen's workshops dotted in Furuma area that make cutting blades using traditional techniques.
One of the reasons that the area flourished as a cutting tool production is that it was an important place of traffic along the Hokkoku Kaido road.
Because of that, the raw materials for the blades transported from Izumo and Hoki by sea were available at relatively low cost from the port of Naoetsu.
Furthermore, with the opening of the railway in the late 19th century, sales channels expanded nationwide.
Characteristics of Shinshu Uchihamono Blades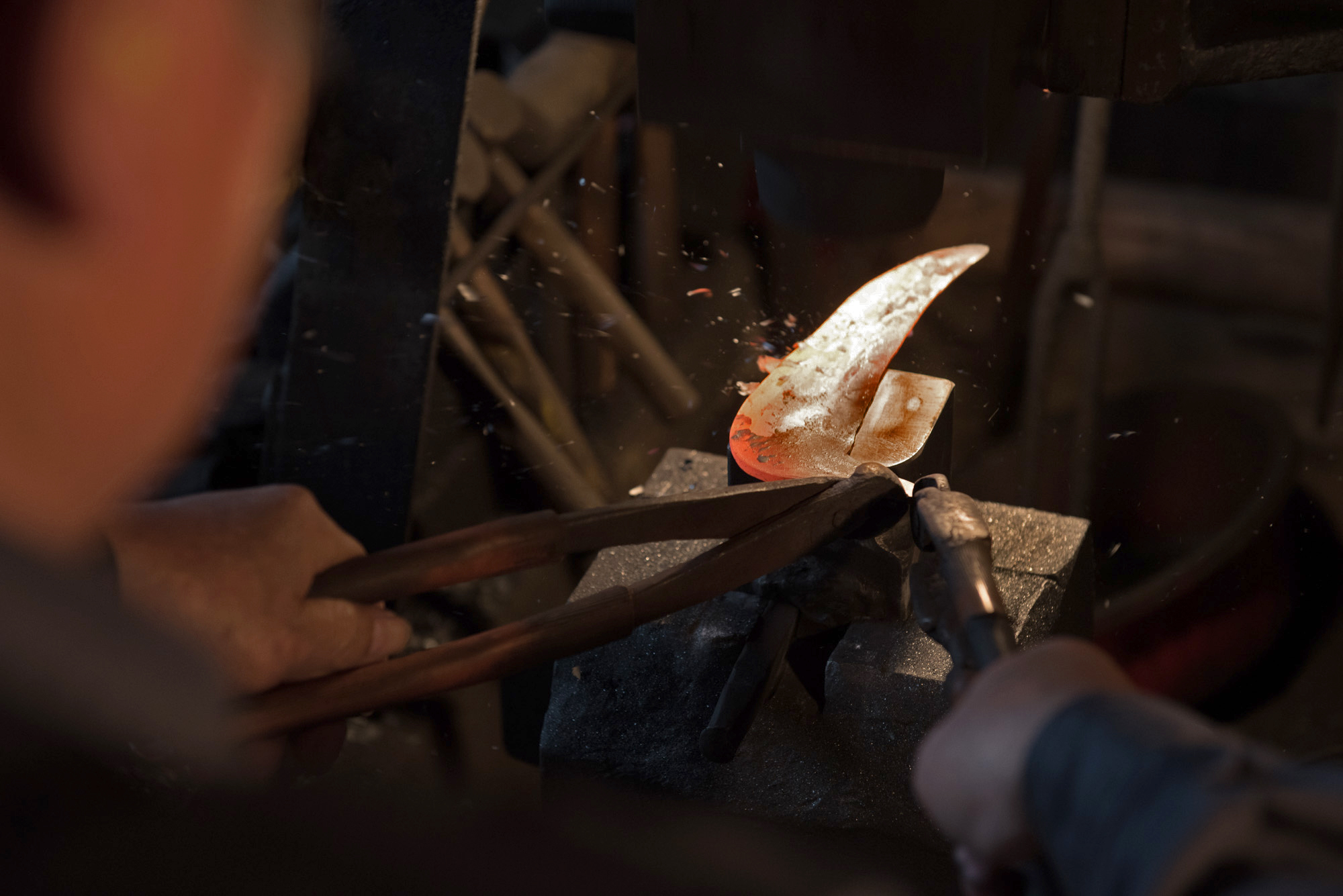 Shinshu Uchihamono are forged blades formed by heating up iron and repeatedly hitting it with a hammer.
They are not mass-produced.The craftsmen make the products one by one by handmade. The sickles are wider and larger than other typical sickles.
However, it is much lighter than you expect. The secret lies in the elaborately struck thin blade.
It has exceptional characteristics that are not found in other production areas, such as sharpness that is called "razor sickle", ease of use, and durability.
The most distinguished feature is the extremely thin steel (hagane) part, which is 1/6 the thickness of the entire sickle.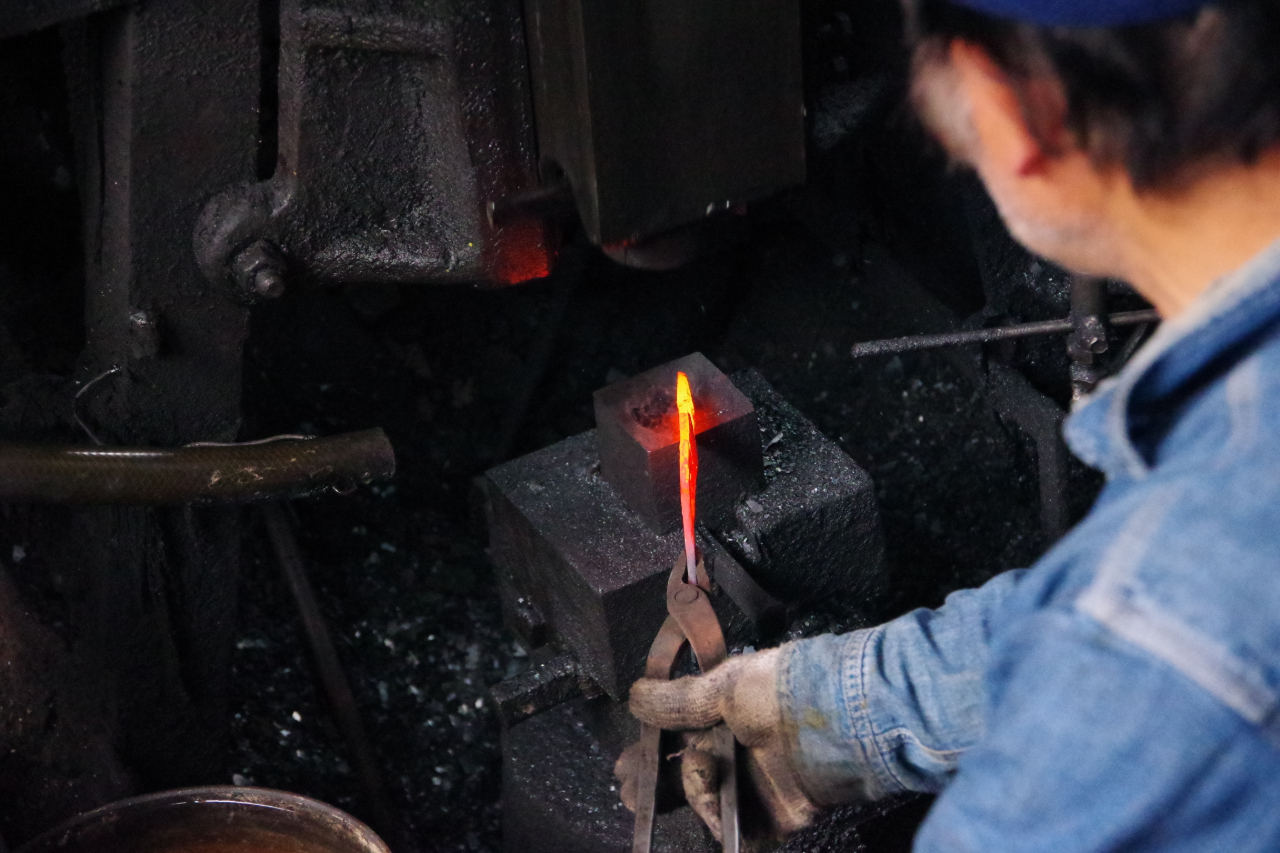 The manufacturing process differs depending on the product, but every product is completed through so many number of processes.
This effort creates excellent sharpness, ease of use and durability.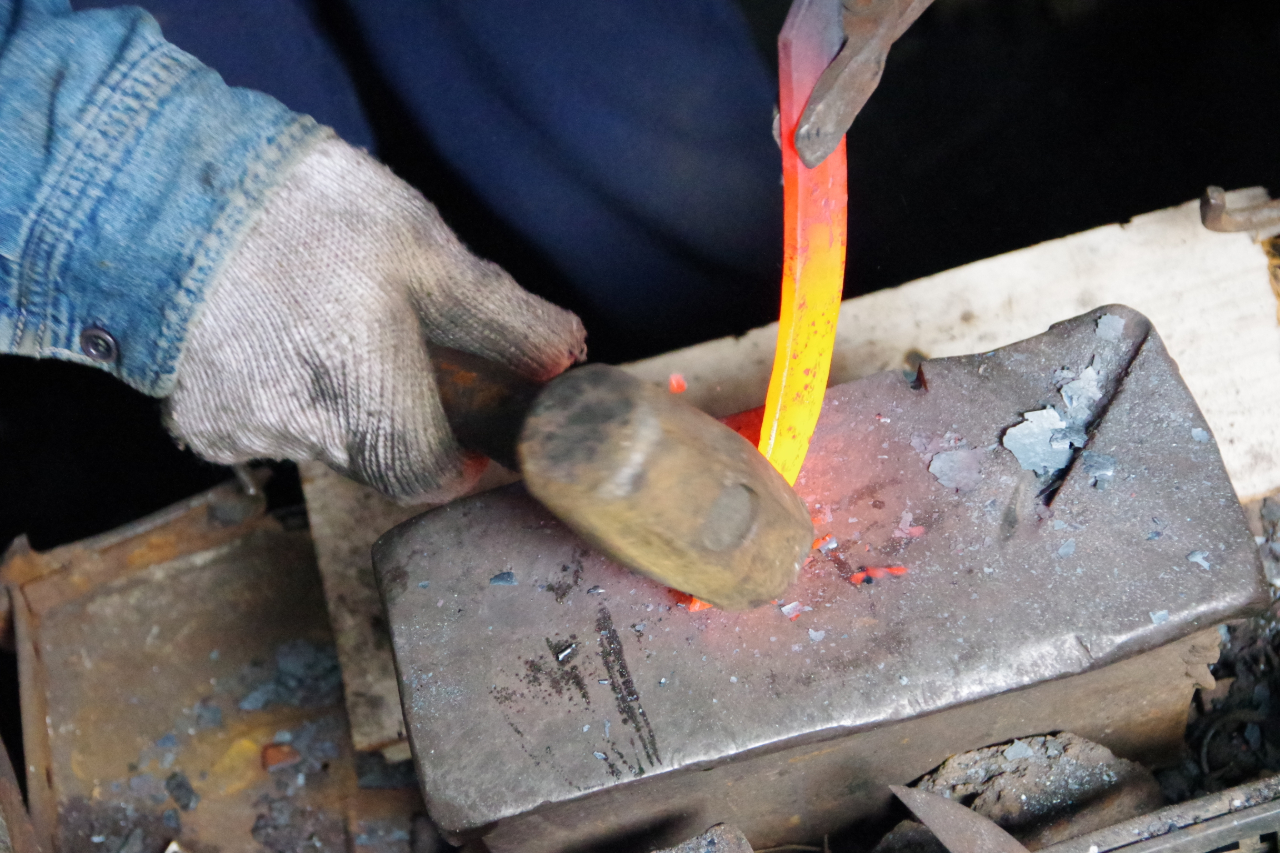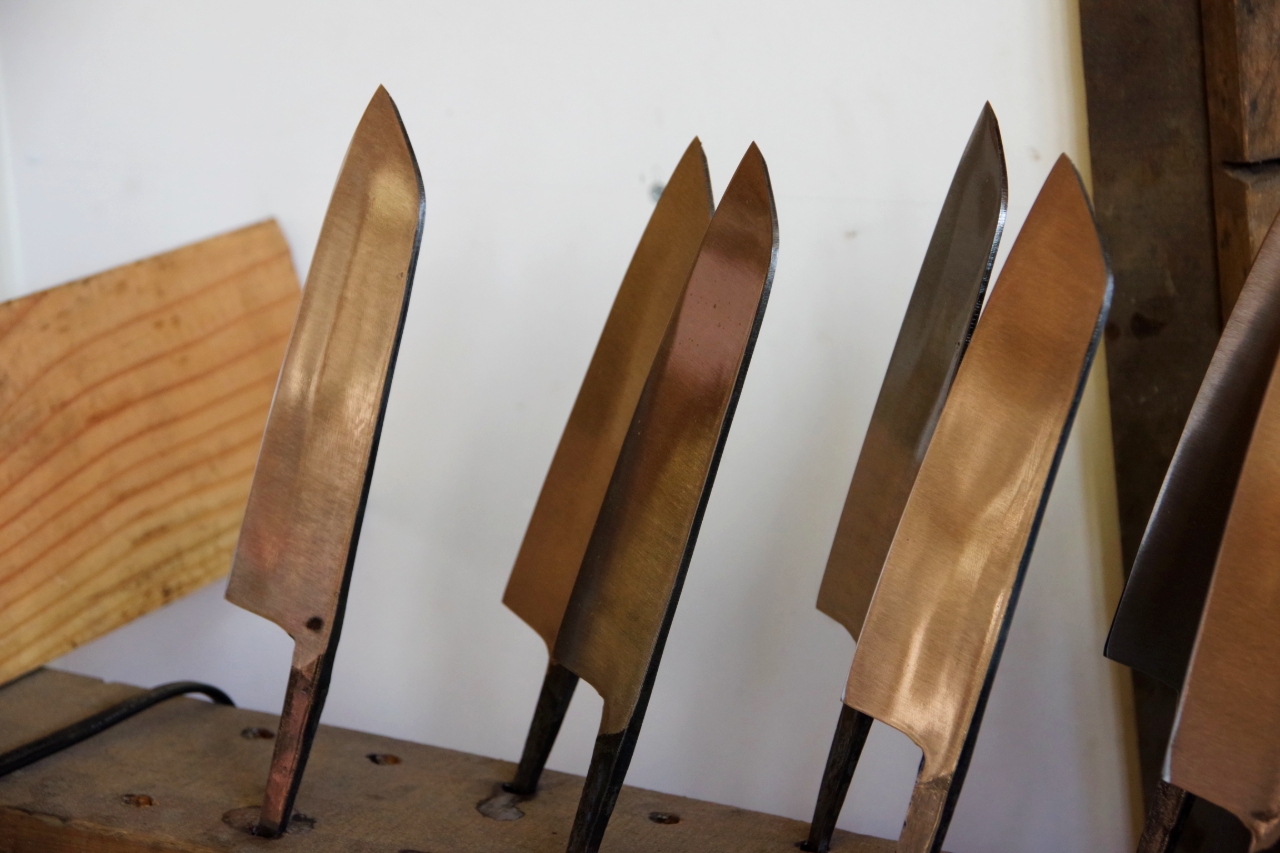 The current situation of Shinshu Uchihamono blades

Shinshu Uchihamono was designated as a national traditional craft in 1982 by the Minister of Economy, Trade and Industry.
Traditional handicrafts are an industry that has handed down traditional technique, and has also enriched people's lives.
It also refers to those that have formed a manufacturing industry based on local resources and technologies, cultivated over a long history, and have contributed to the
development of local economies and the creation of jobs.
METI's support focuses not only on protecting and preserving techniques, but on maintaining and developing the traditional craft industry as an industrial activity.
Currently, in Shinano town, several craftsmen are certified as the master of traditional crafts and serving at the front line.
But like many other traditional crafts, the aging of craftsmen and the lack of successors is a major challenge.
Interview with Toshio Ishida, a traditional Shinshu Uchihamono blade craftsman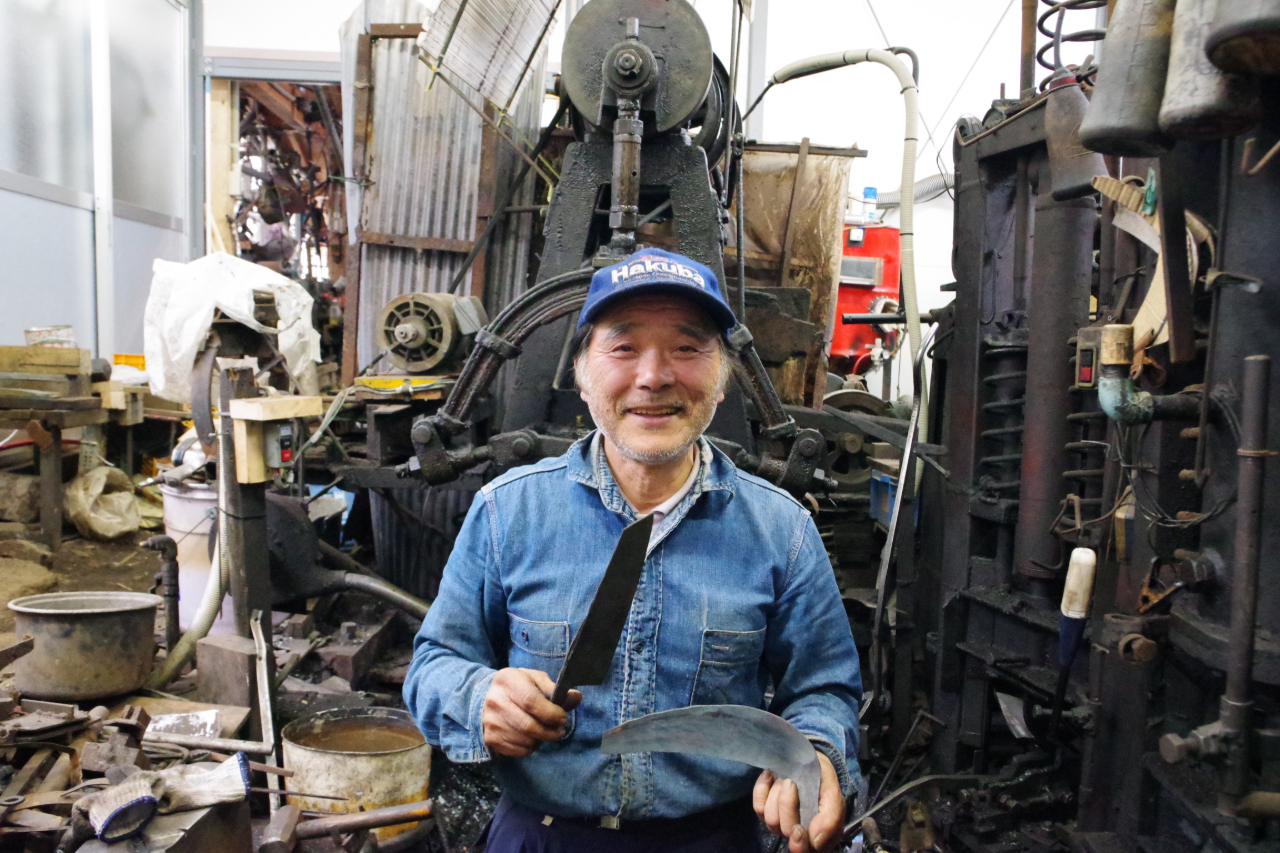 Q. Why did you become a Shinshu Uchihamono blades craftsman?  How long have you been doing it?
A.  I really like making things, and I've seen it since I was little. I started around 16 years old.
Q.  Please tell us about the pleasure, difficulty, and ingenuity of making blades.
A.  It is fun to make the shape of the knives as you've just seen.  It is also fun to work hard to achieve making the things I thought. It's interesting because it's difficult.
I have to think a lot how I can do it better. I've been doing it for over 50 years, but it hasn't changed since I started.
I also make machines and tools by myself to  work efficiently, because it is interesting for me to create things. I just happen to be doing a sickle and knives.
Q. How do you spend your day?
A.  I work for at least eight hours a day. In other blade production areas, there are different craftsmen for each process.
However, here we do all the process by one person. We do both grinding and design.
Q. Please tell us about your prospects for Shinshu Uchihamono blades in the future.
A. There are young people who want to do it. That's why we're devising ways to make the process easier so that shorten the training period.
There were about 60 craftsmen before, but now there are only seven.
Q.  How long will you keep making?
A.  I'm not thinking about that much right now.  I like making things and it's fun, so I still have a lot to do.
To make better blades, Mr. Ishida even makes his own tools.
Through the interview, I felt that he really loves making the Shinshu Uchihamono blades.
When you come to Shinanomachi, pick up Shinshu Uchihamono blades and feel the traditional techniques and passion of the craftsmen that have been around for 450 years.