Shinano town, which designated as a special heavy snowfall area, is covered with deep snow every winter.
In the mountains and forests that spread throughout the town, bamboos and shrub bushes are all hidden under snow.
Then, the forests and plateaus in the town turn into the vast snowshoe fields.
This time, we will show you the fun of  snowshoeing in Shinano's winter.
What is snowshoeing?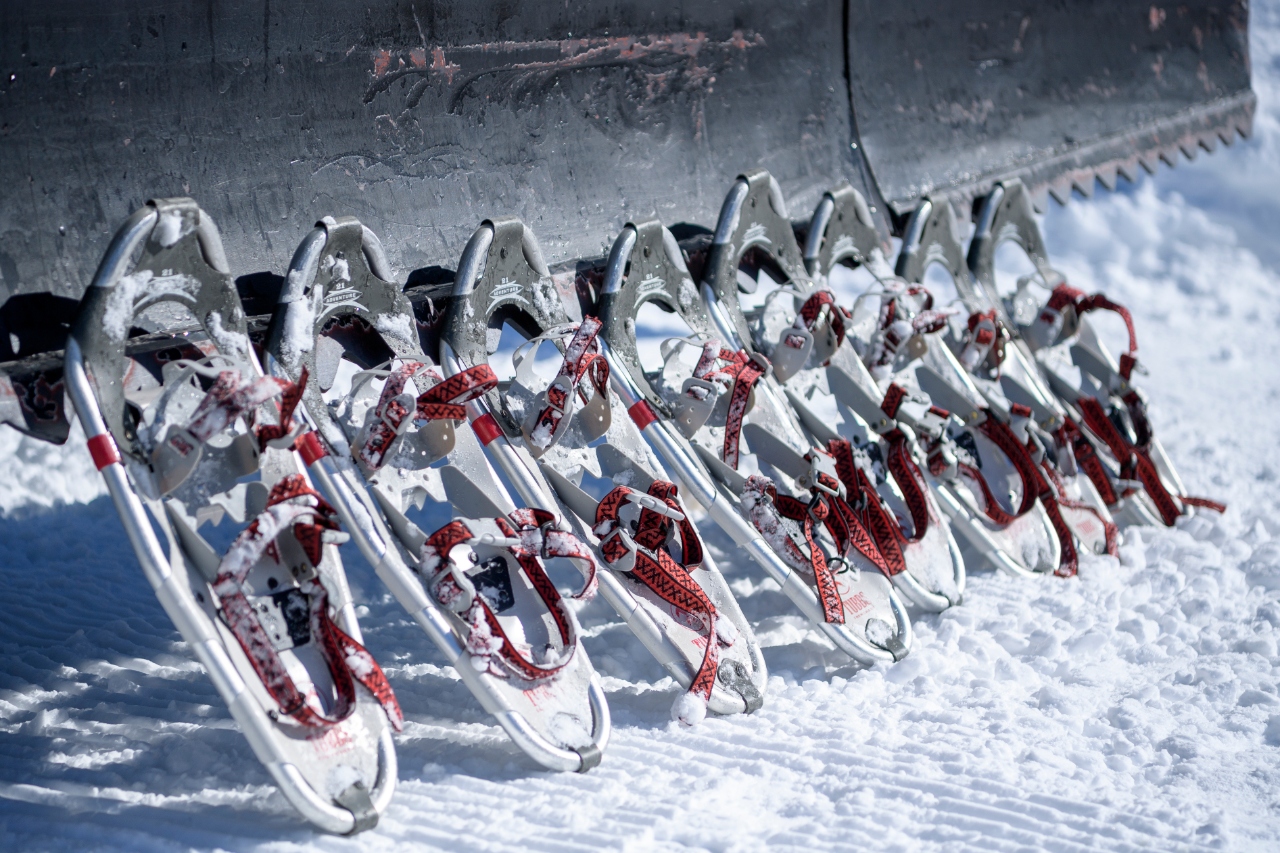 Snowshoe is a tool for walking on deep snow.
Japan has long used Japanese style snowshoes called "Kanjiki" woven with bamboo or wood during the snow season.
Western style snowshoes, on the other hand, have high buoyancy and are suitable for walking on deep snow.
Even for the people using it for the first time can easily enjoy the snowshoeing without any difficult skills.
Where can we do snowshoeing?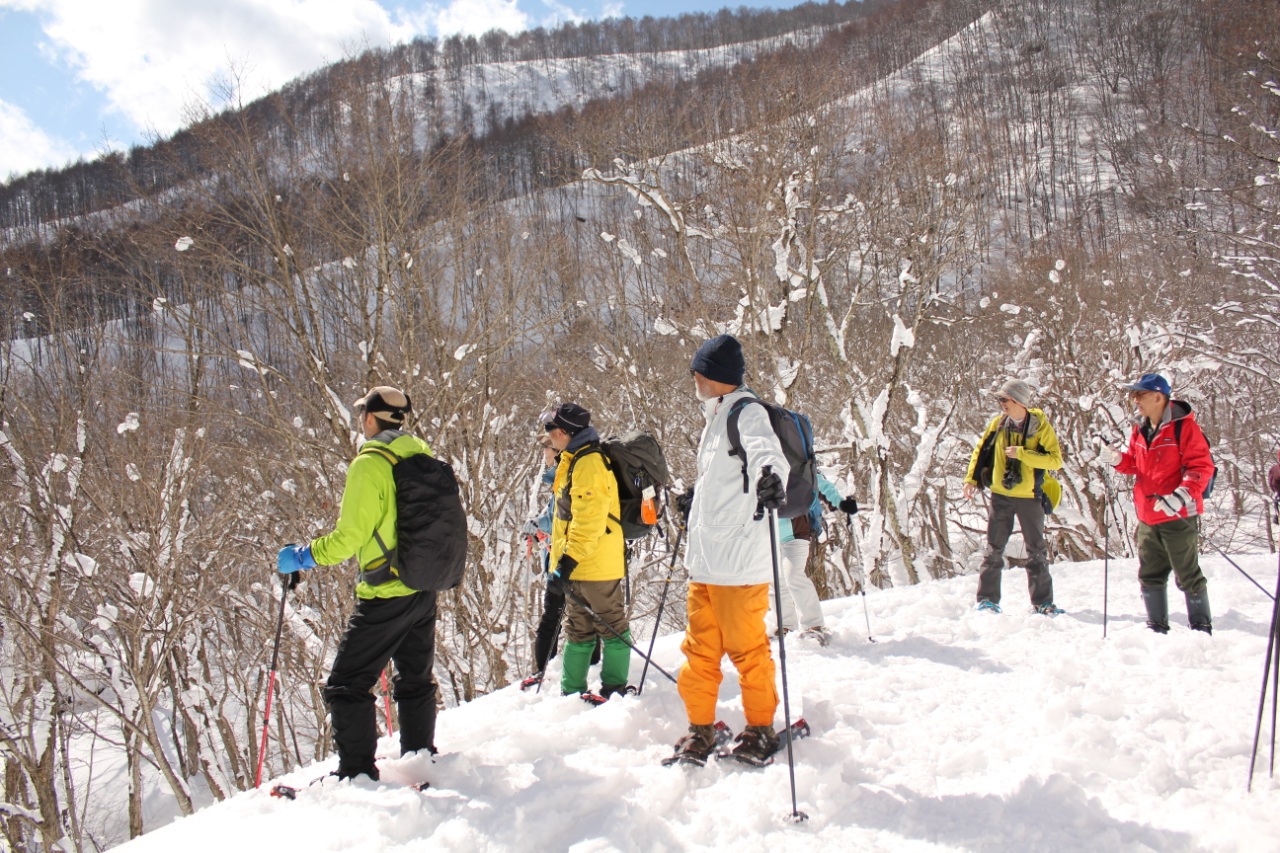 Shinano town is a perfect place to enjoy snowshoeing.
The fields for snowshoeing spread around the town, such as Kurohime Kogen and Madarao Kogen, the forest on the shore of Lake Nojiri, and a little further around Togakushi Shrine area.
Kurohime Kogen's Fairy Tale Forest Snowwave Park rents snowshoes as well as operating a cross-country ski course.
As a first step, why not rent snowshoes here and take a walk to a nearby Ojikaike pond?
Kurohime Kogen's Fairy Tale Forest Snowwave Park
In the Kurohime Kogen, you can see a stunning view like the photo below.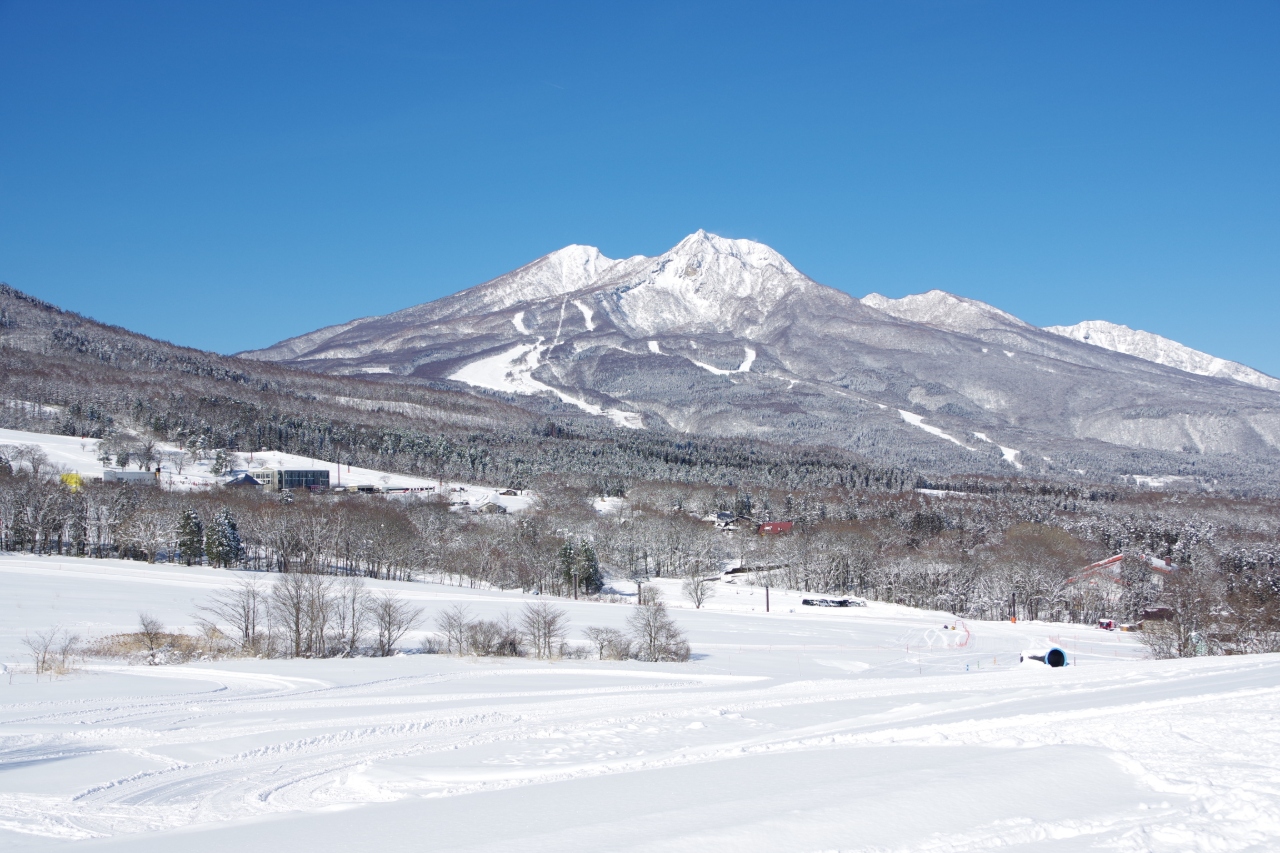 Superb view from Kurohime fairy tale forest snowwave park
If you are a first-timer and are worried about entering the snowy forest on your own, want to learn various things about the winter forest, and want to go to a place where you can not go alone, a guided tour is highly recommended.
In Shinano town, there are many guide companies who run snowshoe tours.
You can enjoy the wonderful scenery and experience like the picture below safely.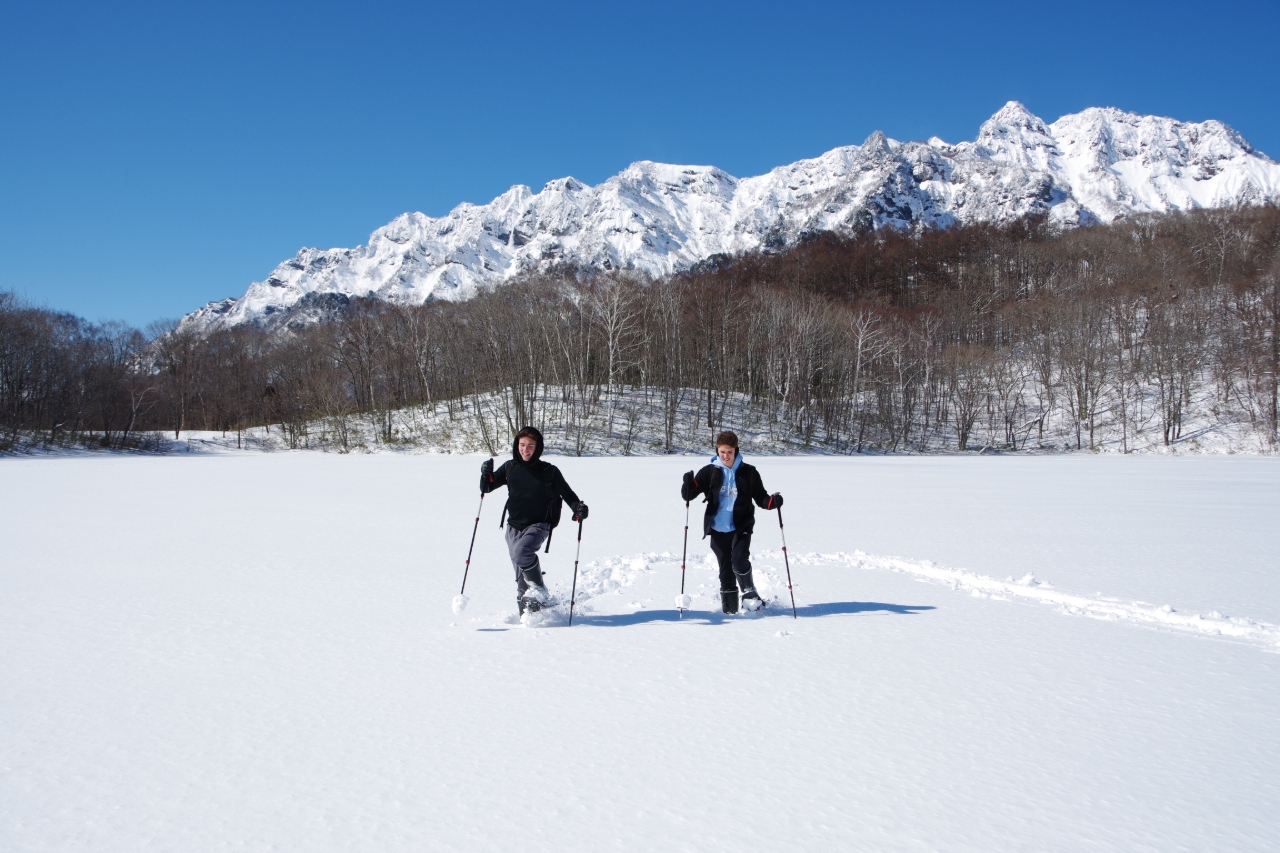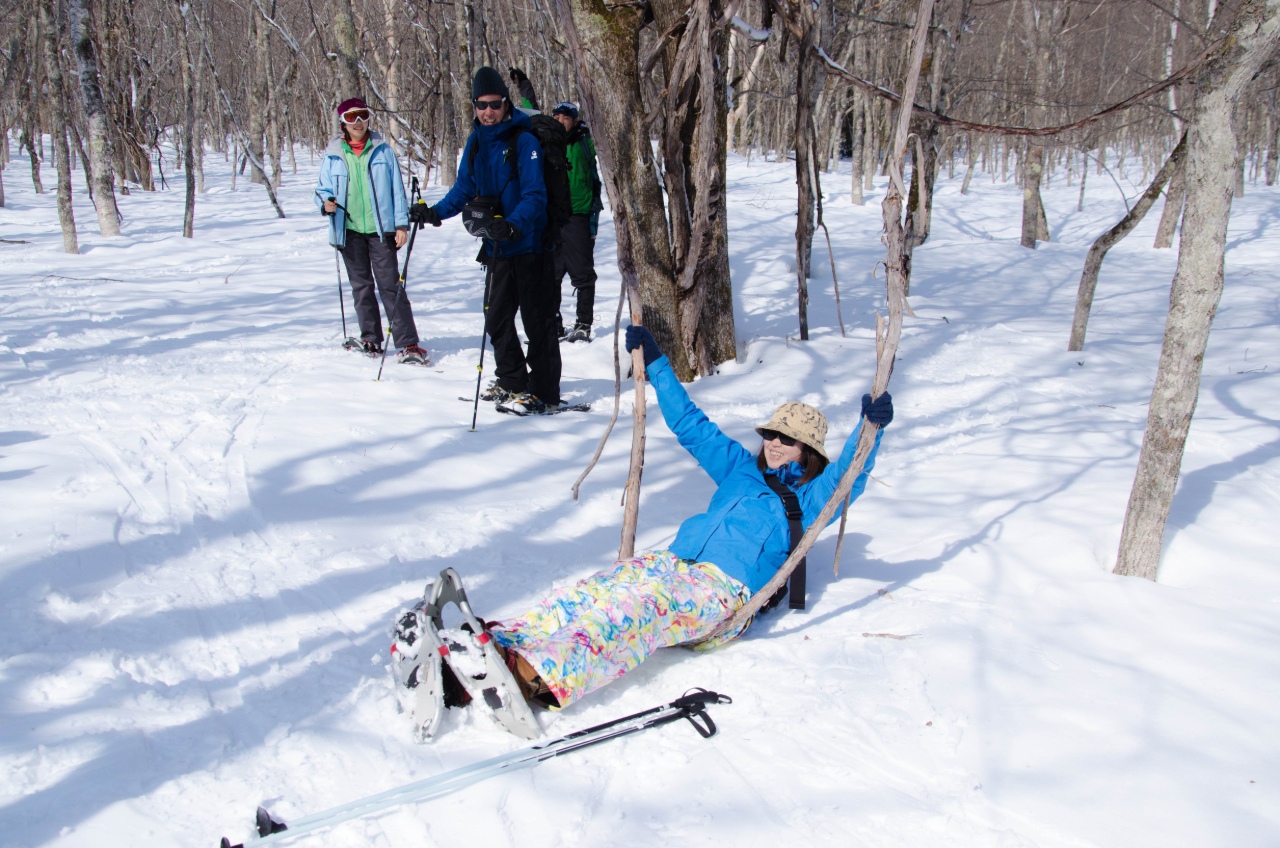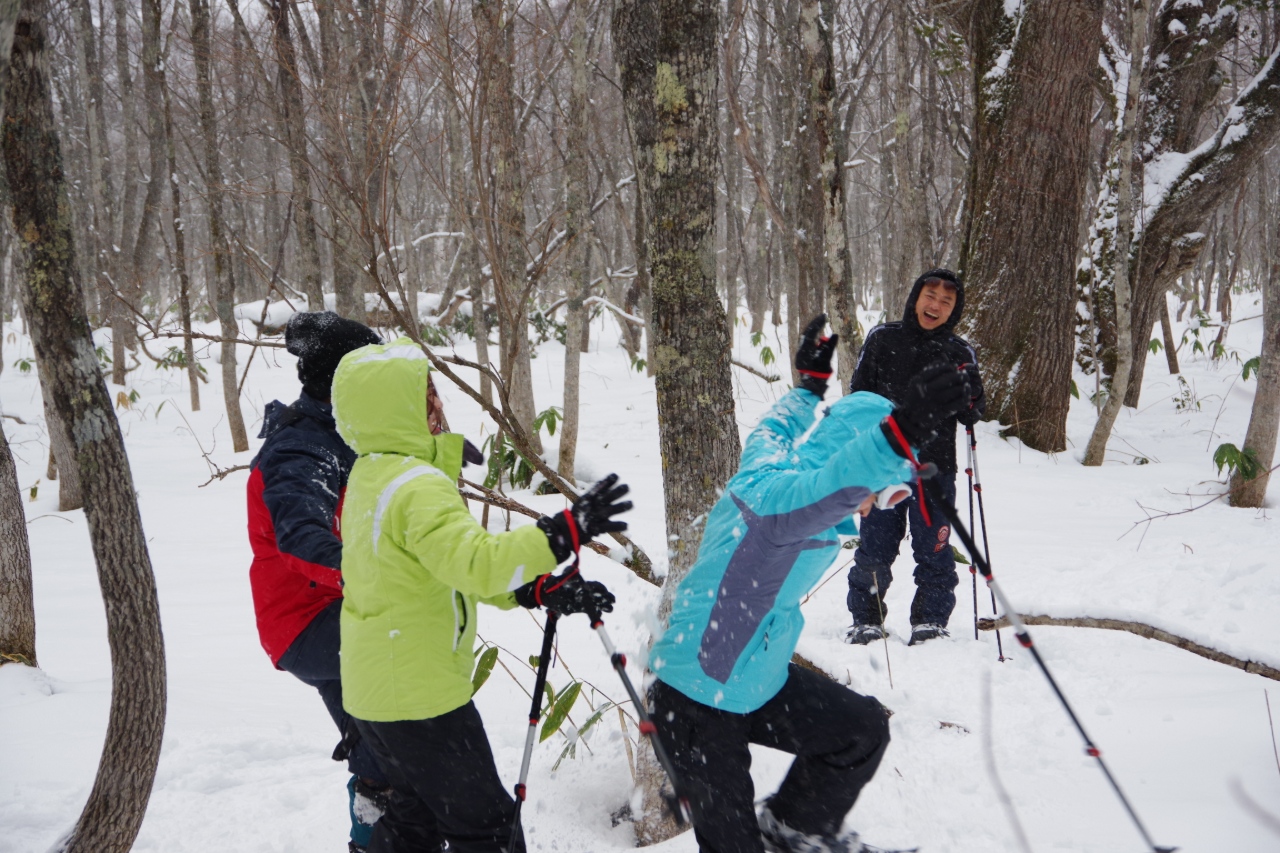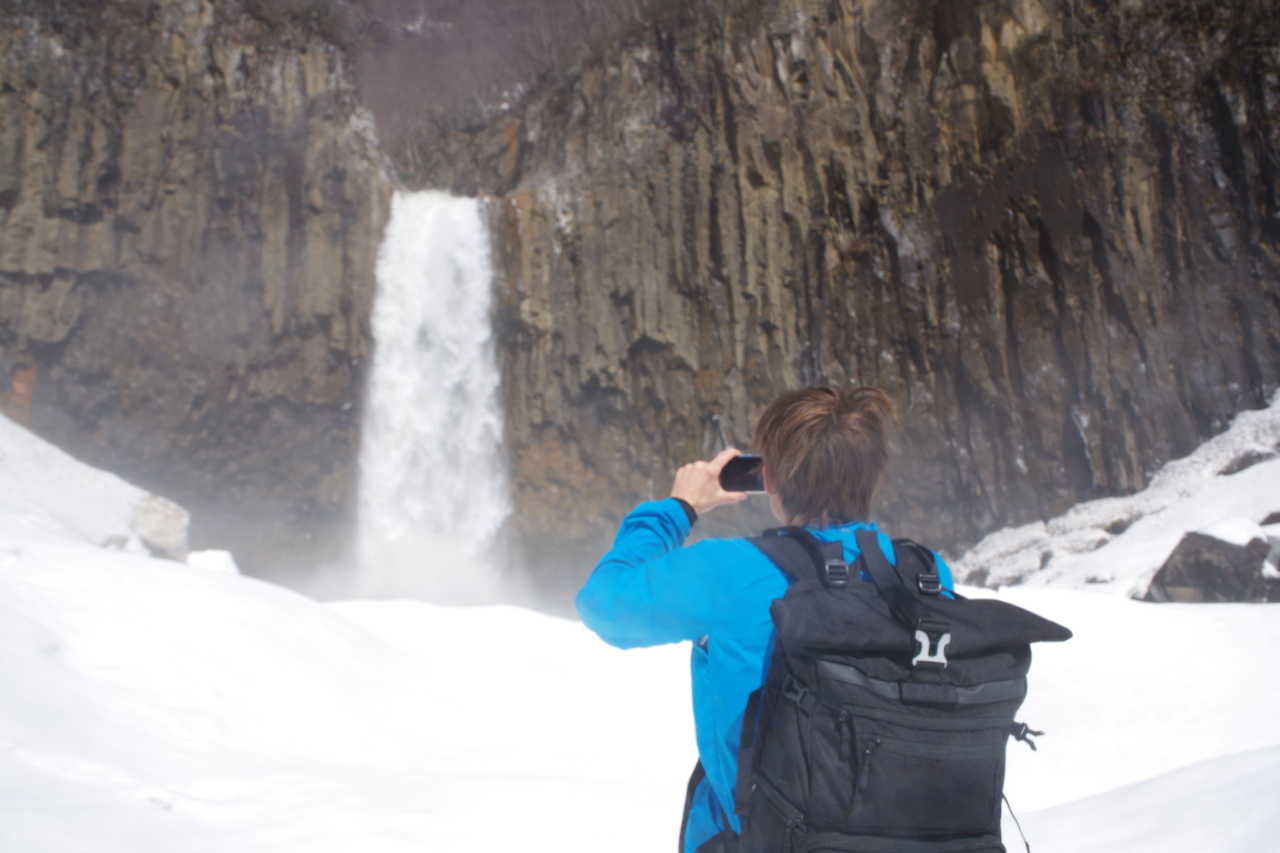 On a tour that takes a little challenge and climbs to the summit, you can even come across such superb views!
This is a view of Lake Nojiri and Mt. Kurohime from the summit of Mt.Daimyojin.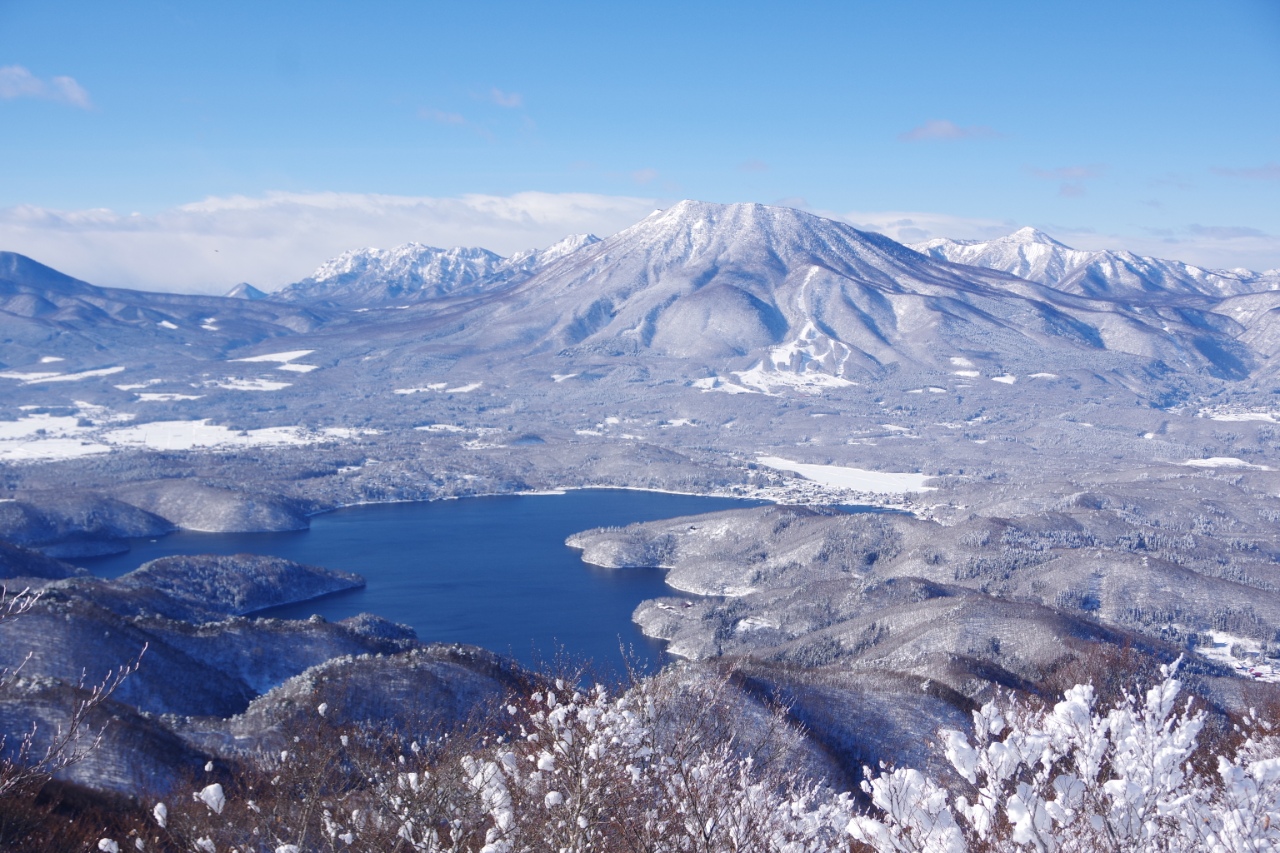 If you hike up a little from Sasagamine highland in Myoko, you can enjoy such spectacular views of Mount Takatsuma and the Northern Alps.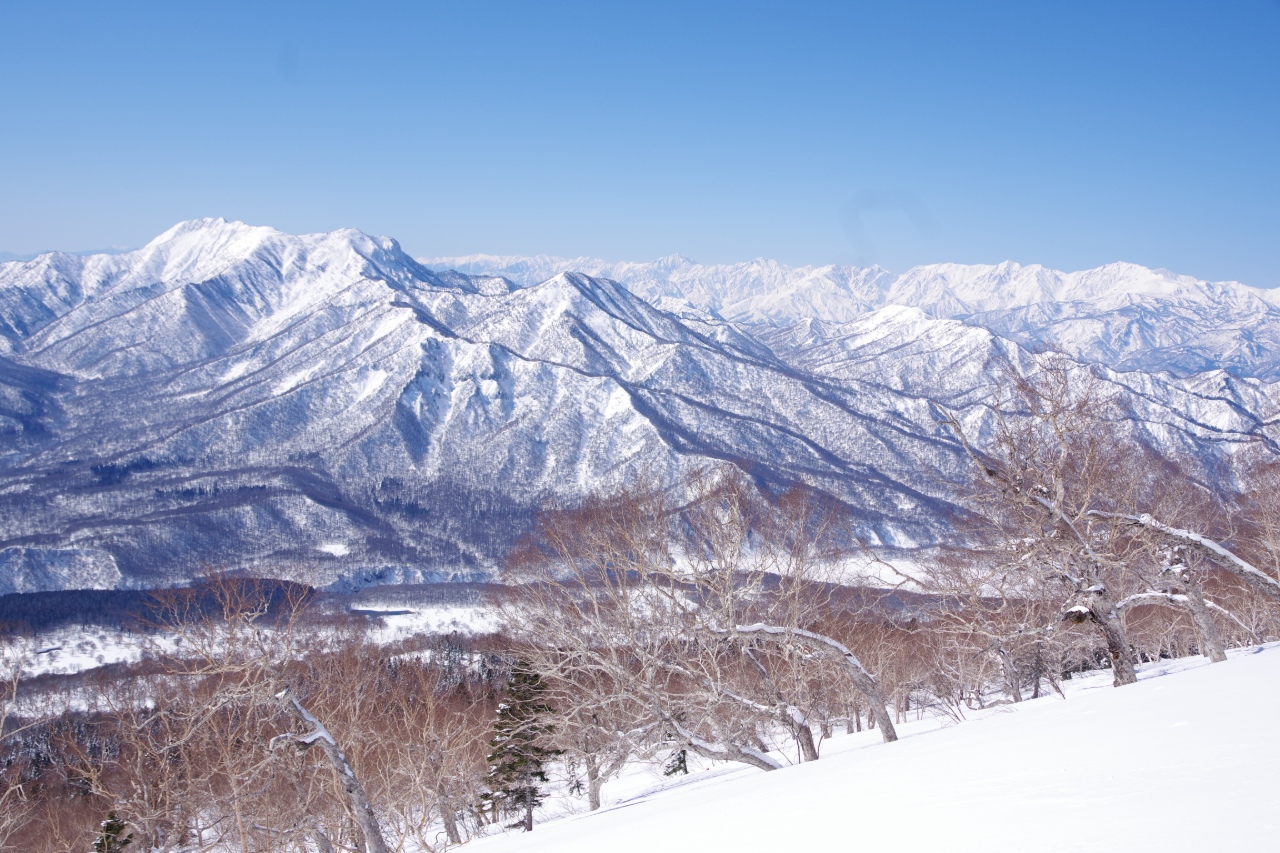 There are many other pleasures of snowshoeing through the winter forest.
The trees covered with fresh snow are breathtakingly beautiful.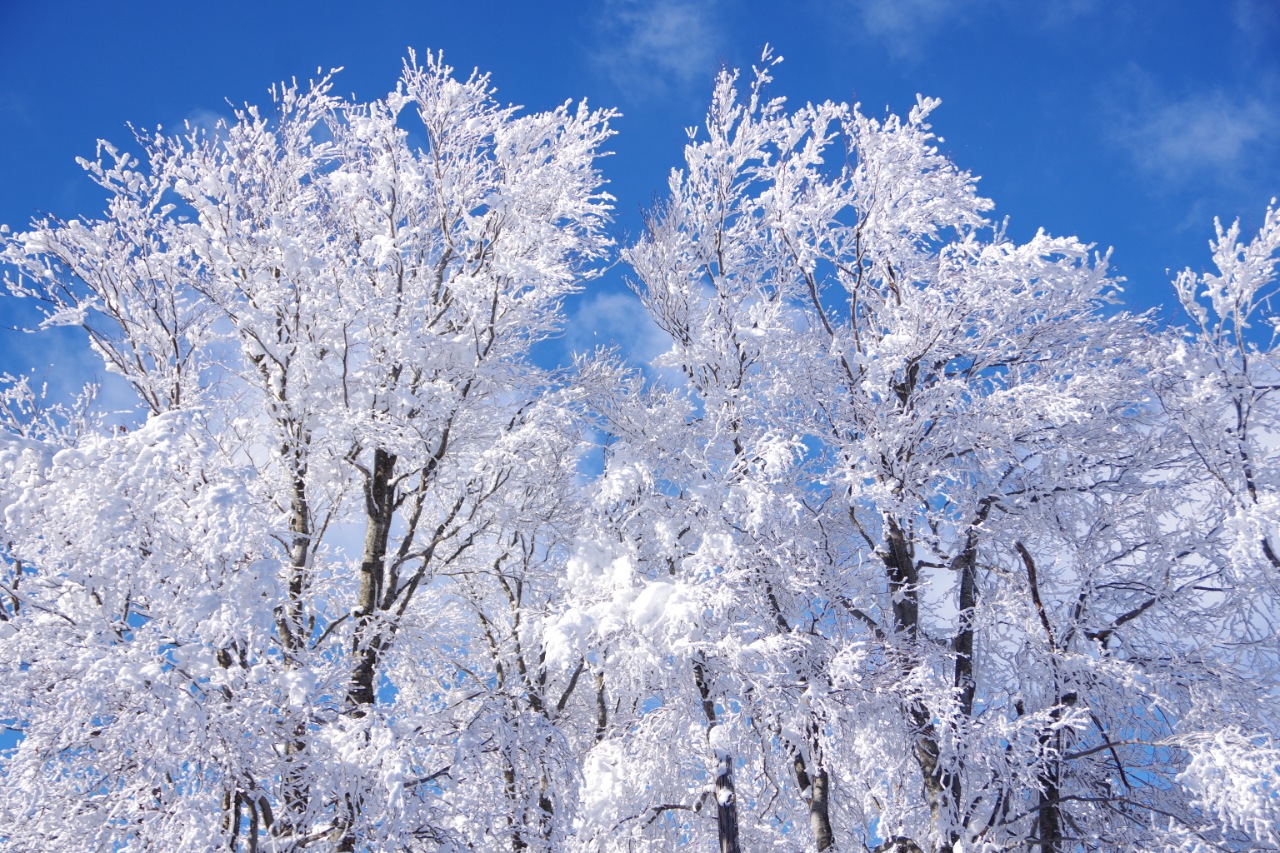 Finding animal footprints on the snow is another fun of winter forest.
It will be more fun if you can find out what kind of animal is it such as rabbits, foxes and antelopes from the footprints.
If you are lucky, you might be able to encounter those animals.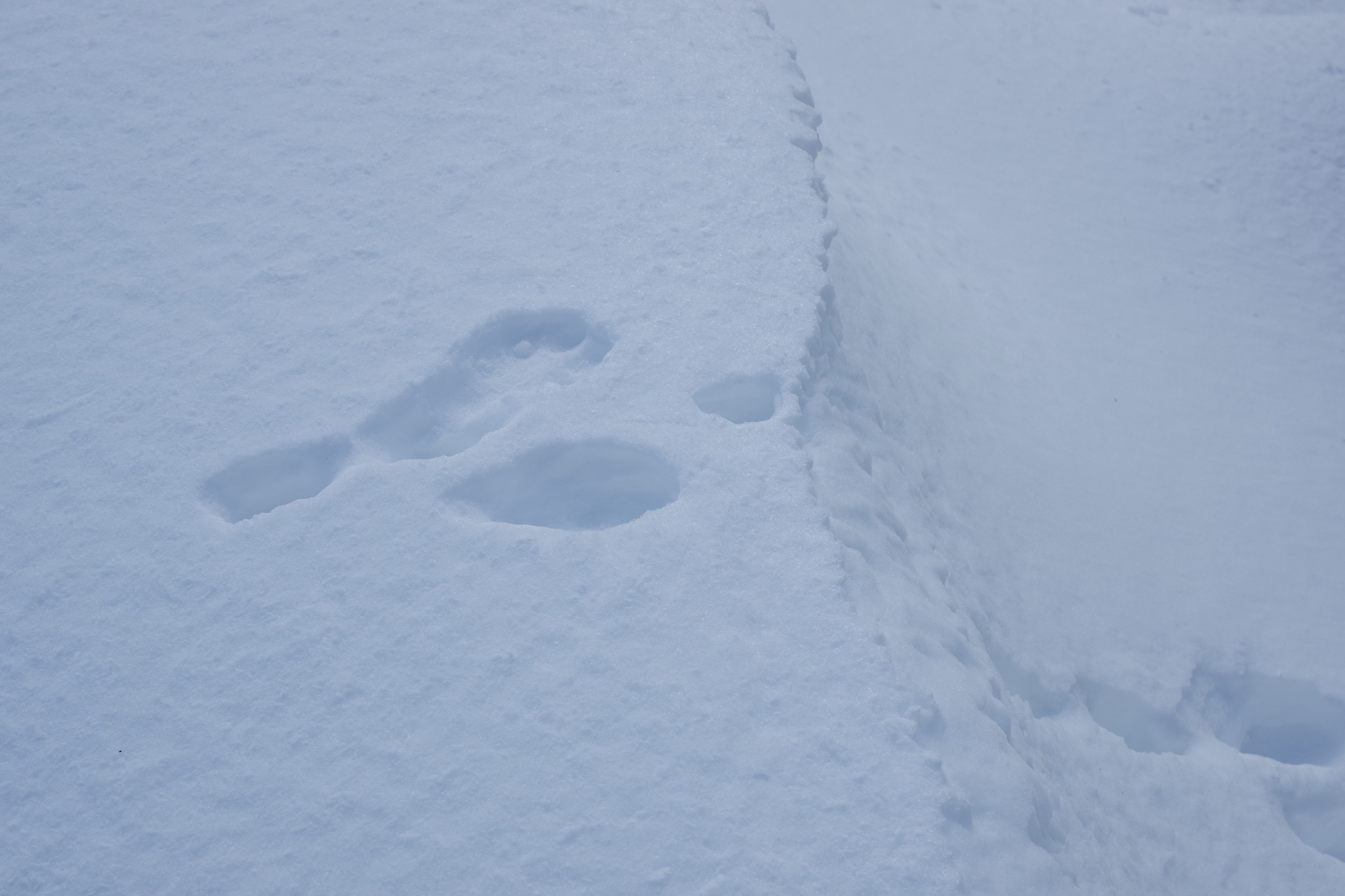 On the path of the wind, you might be able to see Skavler, a nature art, created by wind and snow, as shown in the photo below.
There is never same shape, it is a special molding only at that time.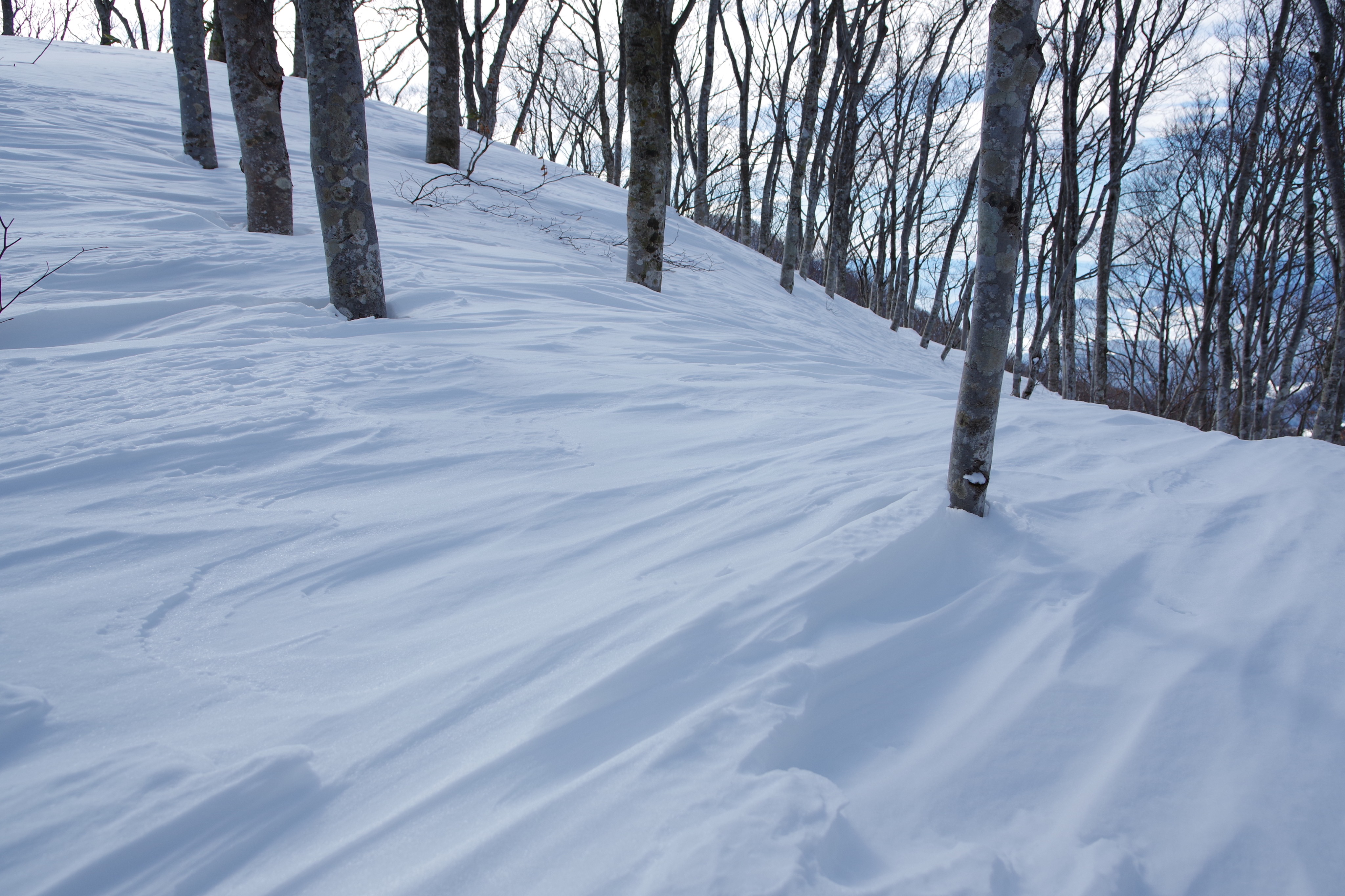 We feel hesitant to go into the winter forest if it's the first time, however strolling through the forest with snowshoes is a very easy activity that anyone can enjoy.
And unlike summer hiking, bushes are buried under the snow, so the best thing about snowshoeing is being able to roam freely in the woods.
A precious time in a quiet forest where you can only hear the sound of stepping on the snow.
A special experience such as meeting a gigantic tree which you can't reach to in snowless season.
Of course, there are risks in winter mountains and forests, such as hypothermia and getting lost, so try snowshoeing on a well-maintained snowshoe course or guided tour at first.
The snowshoeing will surely broaden your world!
Guided Tours